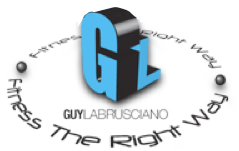 Phone Number: 818-304-7278
E-Mail: guylabrusciano@gmail.com
Website: http://www.fitnesstherightway.com/
With over 20 years experience, numerous certifications and years of training in health and fitness, I'm here to bring you
Fitness The Right Way.
My purpose is to give you information on health, nutrition and exercise that will help you to have more energy, improve your health while looking and feeling great.
Education is the key, so make sure you check out my website, http://www.fitnesstherightway.com/ and read the blogs and video logs for articles and ideas on how to achieve peak health and fitness.
If you have any questions that you don't find the answer to than you can always e-mail me directly and I will try to get it answered in the next blog or video log.
Every day at Fitness The Right Way we answer questions just like these:
What is the best aerobic exercise to do?

With
Fitness The Right Way
you will get an aerobic exercise program and diet plan to lose weight and for fast fat reduction that will also help you reduce cholesterol naturally
How can I lose weight?
You will definitely get tips on losing weight, but more importantly you will gain muscle and reduce fat. You will reduce belly fat and you will lose thigh fat along with an overall program of improved health and fitness designed specifically for you. You will discover how your own unique body chemistry will allow you to find the best food for weight loss for your particular body type.
http://www.fitnesstherightway.com/
Tags: Guy LaBrusciano, Guy, LaBrusciano, GuyLaBrusciano, Guy La Brusciano, La Brusciano, Fitness The Right Way, FittnessTheRightWay, fitness the right way, weight loss, functional training, Postural Realignment, Metabollically correct dietary programs, Body Fat Reduction, exercise, metabolism, exercise program.